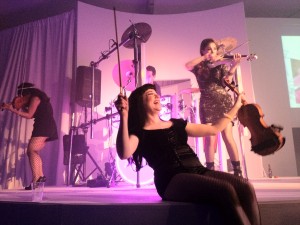 Fretless Rock can provide strolling strings that leap off the stage (literally) and mingle with your guests, taking requests and playing their favorites.
Playing classic acoustic string instruments or the latest electric strings with pedal effects, our performers are wireless and can roam the event. Playing classic and modern rock or the latest dance tunes, they can keep your guests engaged for an experience they will never forget.
Performers can provide full, live performance, or they can be paired with backing tracks providing the groove and beat you can dance to. From Led Zeppelin's Kashmir to Katy Perry's Firework, Fretless Rock can satisfy any music lover's pallet.
Options
Choose one or more Instruments: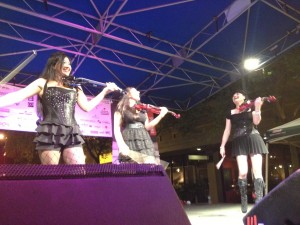 Violin
Viola
Cello
Bass
Electric Harp
Choose an audio package:
Full Front of House Audio (up to 1000 guests)
Backline Only (client supplies Front of House Sound) – We supply monitors, wireless systems, playback system  and mixer
No Audio Package (client supplies Front of House and Backline) – Requirements available upon request
Choose a lighting package:
Two LED Lighting Trees (4 Pars each) and controller plus patterned back wall wash
No lighting (client provides lighting or none required)
Check with your Entertainment Provider or Agent for pricing information.