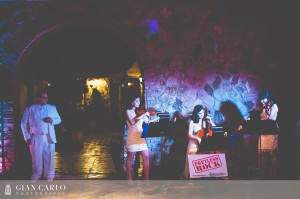 For the classical string ensemble look, our Rockin' Strings will surprise your guests when they transition from popular classical fare into classic and modern rock.
From The Beatles, Led Zeppelin, and Pink Floyd to Metallica, Cee-lo Green and Lady Gaga, Fretless Rock will taylor a performance based on your needs and will create a playlist that changes with the audience. Requests are not a problem and the result is a string quartet with the flexibility and wide selection of a DJ.
Amplification and lighting packages are available. Fretless Rock can be entirely self contained for groups up to 600 guests, or we can work with your technical vendor or staff to work with their systems.
With our audio packages, our amplified strings can also provide microphones for announcements; and for weddings, we can provide a lavaliere microphone for the officiant so everyone can hear the ceremony…at no extra charge!
Want the traditional wedding and a rockin' reception?  Fretless Rock can provide classical fare for the ceremony and move to the reception and rock the house! Combination ceremony and reception package can save you money.
Options
Choose one or more Instruments:
Violin
Viola
Cello
Bass
Electric Harp
Choose an audio package:
Full Front of House Audio (up to 600 guests) – Includes free officiant lavaliere mic for weddings
Backline Only (client supplies Front of House Sound) – We supply monitors, wireless systems and mixer
No Audio Package -Acoustic only or client provides all required audio support
Choose a lighting package:
Two LED Lighting Trees (4 Pars each) and controller plus patterned back wall wash (if required)
No lighting (client provides lighting or none required)
Check with your Entertainment Provider or Agent for pricing information.